HOW TO DRESS TO LOOK TALLER FOR MEN
Hey guys, Dan Thomas from Image Doctor and Improvemant.com and watch the video above or read the article below to learn how to dress to look taller for men.
The key for shorter men when dressing is to create a seamless pathway for people's eyes to run smoothly up from the feet to the face. This can create an illusion in that the more the eyes have to sweep upwards, the taller that object can appear to that person.
If you are shorter, the FIT of your clothing is extra important. Within reason, you want to wear clothing that is close fitting because the worst thing you can do is wear baggy clothing that further accentuates your stature and will result in you looking like a teenager in his father's clothing.
THINGS THE SHORTER MAN SHOULD AVOID WHEN DRESSING
HORIZONTAL PATTERNS
Avoid horizontal lines and patterns such as window panes, cheques, glen plaid and even small details like horizontal pocket square edges. This is because you want peoples eyes to move up and down and not side to side.
WINDOWPANE PATTERN
CHECK PATTERN
GLEN PLAID PATTERN 
CONTRASTING COLOURS
Avoid heavily contrasted colours like black suit pants and a white dress shirt or tan chinos and a navy blazer. Having these combinations will cut you in half and accentuate your lack of height.
FULL PANTS BREAK
Avoid having multiple folds of fabric at the bottom of your pants. Having these folds will disrupt the eyes and take away from the length of your legs which makes you look even shorter.
Instead of having a full fold, or even worse, having multiple folds of fabric at the bottom of your pants, just stick to a quarter of half pants break. To understand exactly what the full, half, quarter and no pants break looks like, I have included a separate video explaining this below in the description field for you.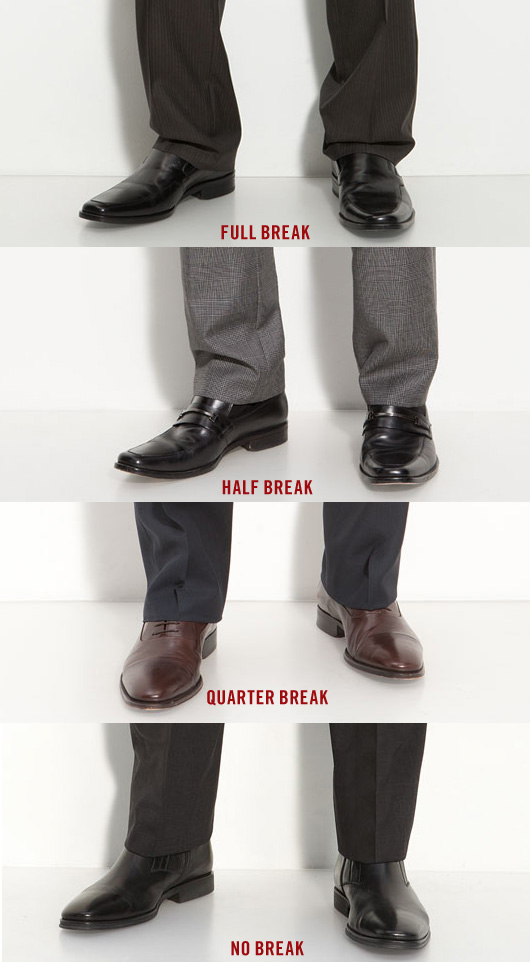 TROUSER CUFFS
Avoid having a trouser cuff as this will also interrupt the eyes pathway towards the  face. Just stick no suit and dress pants that have no cuff.
CHUNKY ACCESSORIES
The short man should also avoid chunky accessories like a chunky watch, thick bracelets, ticket pockets on suit jackets and large and very colourful horizontal pocket squares that can interrupt the streamlined look you are going for.
THINGS THE SHORTER MAN SHOULD UTILIZE WHEN GETTING DRESSED
So that's some things the shorter man should avoid when getting dressed, now let's discuss what the shorter man should do instead when coordinating his outfits:
PATTERNS WITH VERTICAL LINES
Choose patterns with vertical lines such as pin stripes.
DARK MONOCHROMATIC OUTFITS 
Experiment with wearing monochromatic outfits. This means that all items of clothing are a similar colour such as a dark navy suit with a dark blue dress shirt and black tie.
Choosing monochromatic outfits will create a longer, streamlined look that is not interrupted or cut in half by contrasting colours. Choosing dark on dark monochromatic outfits are more slimming and streamlined than lighter coloured monochromatic outfits.

PEAK LAPELS
Instead of the standard notch suit lapel, you could choose a peak lapel which looks like this. The shape and vertical direction of the peak lapel can take the eye in an upwards direction which is favorable when shorter.
STANDARD POINT COLLARS
Choose tall point collars that aim downward instead of wide spread and cutaway collars which give the illusion of girth and width instead of height and length.
TUCK YOUR SHIRT IN 
When wearing dress shirts with jeans and chinos, tuck the shirt in as most shirts are not made for your size and  look more like a blouse. Regardless of your height though, you will look far more classy and sharp when your shirt is tucked in.
WEAR JACKETS OFTEN 
Wear suit jackets and blazers as often as possible. Jackets add weight and height to the shoulders which takes the eyes to that area. If you're wearing a suit jacket then wear matching pants and if wearing a blazer, wear pants that are close to that colour.
2 BUTTON SUIT JACKETS
Choose 1 or 2 button suit jackets and blazers instead of 3 button jackets. 3 button jackets will look too long on your body frame and highlight your shorter stature.
SHORTER SUIT JACKETS
The standard length of a suit jacket or blazer should be in line with the bottom of a man's bum where his bum cheeks finish and his upper legs begin.
If you're a shorter man though, you may be best to have your suit jacket hemmed to sit higher than the standard length. Having your jacket or blazer sitting above the bum crease will make your legs look longer  and create a more vertical pathway for the eyes to travel along.
GO INTERNATIONAL 
Look at buying clothes online through Italian and Asian clothing brands. Australian, UK and American clothing manufacturers mass produce their clothing on a size scale which is aimed at the general population which does not cater well to those of shorter stature.
If you're short and quite lean, Asian and Italian online retailers may be more appropriate as the men in these cultures are more petite in a very general sense.
If you do buy from these online retailers, be sure to utilise the size guides before purchasing and buy from stockists that have favorable return policies should the sizing be wrong.
GO CUSTOM 
If your budget allows, the best strategy of all is to have your  clothing custom made. This is very effective for combating issues like suits and dress shirts being too long.
With the online economies of scale, custom tailored clothing is not as expensive as it once was and you may be pleasantly surprised at the options you have available online.
Below this video in the description field I have included the links to a variety of online custom options for you to have a look at.
So that is a pretty solid list of style tips and suggestions that short men should avoid and implement when getting dressed to maximize their appearance and image.
ONLINE CUSTOM TAILORING OPTIONS
http://www.tailor4less.com/en-au/men/custom-dress-shirts/